Holbrook, Vera June
September 25, 2023, Age 99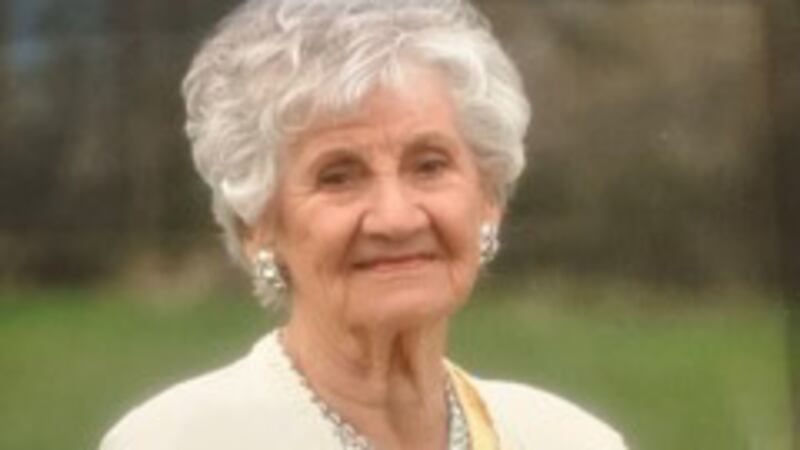 Published: Sep. 28, 2023 at 12:55 PM MDT
BURLEY, Idaho (KMVT/KSVT) —Our sweet angel mother, Vera June Burnett Holbrook, age 99, joined her eternal companion, Pa, Monday, September 25, 2023. Her six children spent her last days on earth gathered around her.
June was born in Clinton, Utah, June 30, 1924, the daughter of Revere Burnett and Ivy Celisia Ross Burnett. She married J Russon Holbrook on April 23,1943, in the Salt Lake Temple. They were blessed with six children, three sons and three daughters. Nana, the name she was fondly known by, was a faithful member of The Church of Jesus Christ of Latter-day Saints where she served in numerous callings. She loved serving with the youth in Young Women and teaching the teenagers in Sunday School. She served three missions with her loving husband in Tonga, Jackson, Mississippi, and Vancouver, Canada.
Nana had a beautiful soprano voice and sang professionally in a trio at the Ogden Arsenal for several years until she decided to stop singing professionally to raise and nurture her family. She continued singing at many funerals and church programs and with various choirs throughout the years.
She loved quilting and tying quilts, making one for every grandchild when they were born. She loved gardening and canning food from her garden. She loved plants and could make any plant bloom and grow.
She lived a full and happy life and blessed every person she met with her positive attitude and unconditional love, always seeing the best in everyone.
In June 2015, she moved with her sweetheart to Logan, Utah, to reside at Legacy House, an assisted living facility, where she lived until her passing. As a family, we would like to express our deep gratitude for the management, the aides, and all who loved and cared for her.
She is survived by her six children, Connie (Kendell) Bingham, Roger (Connie) Holbrook, Kent (Natalie) Holbrook, Rozan Holbrook, LaRae (Scott) Livingston, and Neil Holbrook. Nana leaves behind a beautiful legacy of 38 grandchildren; 111 great-grandchildren; and eight great-great- grandchildren.
The funeral will be held at 11 a.m. Friday, October 6, at The Church of Jesus Christ of Latter-day Saints - Pella 2nd Ward, located at 152 W. 400 S., of Burley. Burial will follow at Pella Cemetery.
Family and friends will be received from 5 until 7 p.m. Thursday, October 5, at Rasmussen-Wilson Funeral Home, 1350 E. 16th St., in Burley, and from 10 until 10:45 a.m. Friday, preceding the funeral, at the church.
A webcast of the funeral service will be available and maintained at rasmussenwilson.com.
The family suggests in lieu of flowers memorials be directed to The Church of Jesus Christ of Latter-day Saints Humanitarian Aid Fund - (https://philanthropies.churchofjesuschrist.org/humanitarian-services)
Copyright 2023 KMVT. All rights reserved.