Uscola, Dorothy Marie
October 5, 2023, Age 89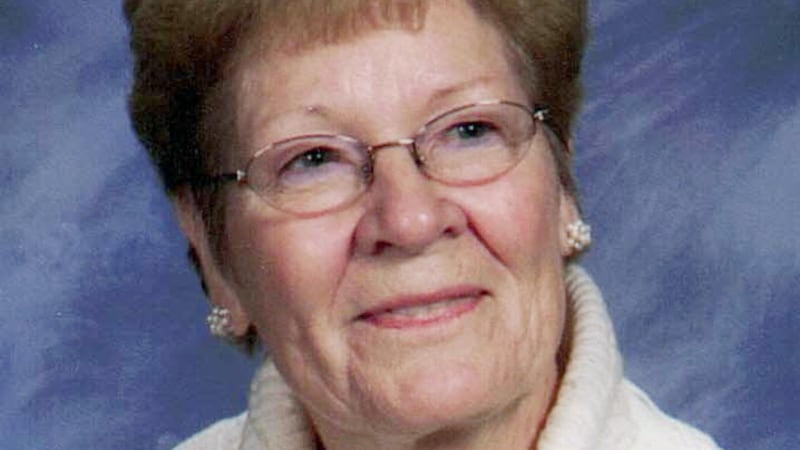 Published: Oct. 5, 2023 at 4:20 PM MDT
BURLEY, Idaho (KMVT/KSVT) —Dorothy Marie Uscola, an 89-year-old resident of Burley, passed away Thursday, October 5, 2023, at Grace Assisted Living in Twin Falls.
Dorothy was born April 18, 1934, in Lewellen, Nebraska, the daughter of Wallace Raymond and Gladys Fern Hines Sherfey. In 1936, when Dorothy was two years old, the family moved to Idaho and settled in the Emerson District of Heyburn. Dorothy attended school in Heyburn and graduated from Heyburn High School in 1952. She subsequently enrolled at Idaho State College in business education.
She began her musical training at an early age studying piano with Mrs. Mathers of Rupert. Her lessons were taken at Mrs. Mathers' music studio on the third floor of the Calladonian Hotel in Rupert. Her musical talent was in great demand starting in the seventh grade as the pianist of the adult Sunday School of the Methodist Church. She also participated in youth fellowship and sang in the choir all through high school. At school she began playing for the school chorus her freshman year and continued through graduation. Additionally, she played for school operettas and for other ensembles. She also played the clarinet in the high school band.
The student body at Heyburn High School was close knit. In addition to her musical talents, Dorothy was a cheerleader, a member of the pep club, honor society, the senate, was editor of the Heyburnian her senior year, FFA Chapter Sweetheart, and was salutatorian of her graduating class.
She married her high school sweetheart, Keith Stephen Uscola, on February 8, 1958, and they lived in Burley. On November 11, 1961, the light of their life was born, Kevin Steve Uscola. They had 16 wonderful years with Kevin until he was taken from them in a motorcycle accident on July 28, 1978. He was everything a parent could ask for as a son. Their lives were never the same after his sudden death but they kept his memory alive by starting the Burley Booster Club and continued to support his classmates through the balance of their high school and college years. They were a super class and they were Dorothy and Keith's pride and joy. They felt blessed to have had Kevin and his friends in their lives.
Dorothy started work at the Jerome Co-op as a bookkeeper and was employed there for 13 years. She then transferred to Southern Idaho PCA where she was office manager and assistant secretary of the association. After 19 years at PCA, the manager and Dorothy were asked to open the Burley branch of Valley Bank. Dorothy was the personal banker, loan documentation specialist and office manager. After eight years Valley Bank merged with Key Bank. She was then offered a job as a commercial loan officer at First Security Bank. After the merger between First Security and Wells Fargo, Dorothy continued as the Burley branch manager until her retirement on May 31, 2001.
Dorothy was an active member of the Burley United Methodist Church and, in 1959, became the church organist and served in that capacity for 55 years. Additionally, she served as treasurer of the Burley United Methodist Church Foundation, was a member of the finance and worship committees, and UMW member and Circle president.
Dorothy served the Mini-Cassia community with grace and dignity. She was a member of the Burley Rotary Club and served as its first woman president. She was treasurer for the Bobcat Boosters for five years, treasurer for the Cassia Health Care Foundation for ten years, was a member of PEO, the King Fine Arts Center Auxiliary, Mt. Harrison Heritage Foundation, Community Concert Board, Iris Homes and Garden, and was past president of the Heyburn Alumni Association. She played for countless funerals and weddings throughout her lifetime - a service she greatly enjoyed and a gift of which the members of the community were recipients.
As a side note, Dorothy loved dolls from the time she was a little girl, and she had an enormous collection of beautiful dolls displayed in her home.
Dorothy is survived by her brother, Kenneth Sherfey of Oakley, and many nieces and nephews. In Dorothy's eyes, her many beloved and devoted friends were an extension of her family.
In addition to her son, Kevin, she was preceded in death by her parents; her husband, Keith; and her brother, Delbert Sherfey.
The funeral will be held at 11 a.m. Saturday, October 14, at the United Methodist Church, located at 450 E. 27th St., in Burley, with the Reverend Kenneth Haftorson officiating. Burial will follow at Pleasant View Cemetery in Burley, where she will rest in peace next to her beloved Kevin and Keith.
Friends and family will be received at the church on Saturday from 10 until 10:45 a.m.
Arrangements have been entrusted to the care of Rasmussen-Wilson Funeral Home of Burley.
Copyright 2023 KMVT. All rights reserved.