Update: Person in custody connected to Capri Drive murder
It is unknown if this incident is related to the shooting incident that happened earlier the same evening in Target parking lot
Published: Nov. 16, 2023 at 1:02 PM MST
TWIN FALLS, Idaho (KMVT/KSVT) — (UPDATE: 11/17, 4:13 p.m.) As a result of Mi'Quavis Taylor's arrest in connection to the shooting Wednesday evening in the Target parking lot and the subsequent investigation, a second individual has been taken into custody on unrelated charges in Ada County.
The Twin Falls Police Department and Twin Falls County Prosecutor's Office are working together and believe charges are forthcoming for the murder that occurred early Thursday morning on Capri Drive.
Lt. Terry Thueson says while the department is unable to announce charges yet, they feel confident there is no ongoing threat to the community.
Thompson credited the cooperation between the Twin Falls County Sheriff's Office, Idaho State Police, Jerome County Sheriff's Office, Ada County Sheriff's Office, Boise Police Department, and the Idaho State Police Crime Lab in these investigations.
To recap the incident on Capri Drive, 32-year-old Freddy Rodriguez heard a disturbance outside his home early Thursday morning.
He was shot and killed while confronting the suspect. The suspect then fled the scene.
Rodriguez was married and a father of three. A GoFundMe has been started by friends and family to help support his family.
The Rodriguez family asks that the public respect their privacy at this time.
(ORIGINAL STORY): KMVT has just been notified by the Twin Falls Police Department that a Twin Falls man was shot and killed outside of his home just before 2 a.m. Thursday, November 16th.
According to a report from Lieutenant Terry Thueson, the Twin Falls Police Department responded to the 800 block of Capri Drive in regard to a reported shooting.
It was reported that a homeowner heard a disturbance outside his house and confronted an individual inside of his vehicle. Officers arrived and discovered that the homeowner had been shot while confronting the suspect inside his vehicle. The suspect then fled the scene in a white truck and left the area at a high rate of speed.
Although first aid was rendered by first responders, the 32-year-old victim died because of the shooting and this case is currently being treated as a homicide investigation.
The victim has been identified as Fred Rodriguez of Twin Falls. Rodriguez was married and a father to three children.
Acting TFPD Chief Matthew Hicks would like to remind the citizens in Twin Falls to remain vigilant; while they believe this event was an isolated incident, the suspect is not yet known and is considered armed and dangerous.
They would also like to remind residents to try to avoid direct confrontation with suspects, gather as much information as possible and notify police as soon as possible.
Anybody with possible information regarding this incident is encouraged to call Detective Jason Kelly at 208-735-7307.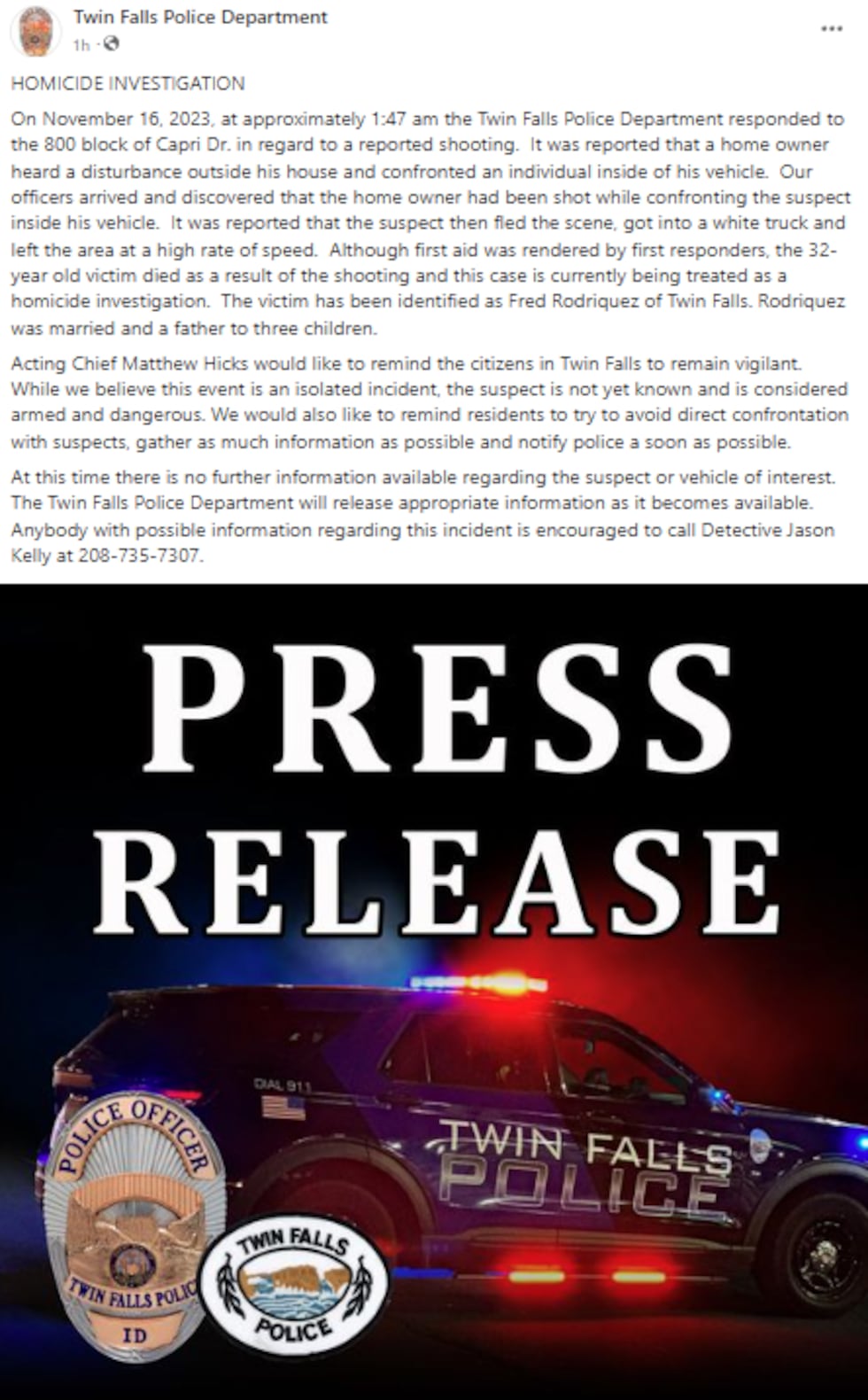 Copyright 2023 KMVT. All rights reserved.