Weather blog: Ingredients for severe weather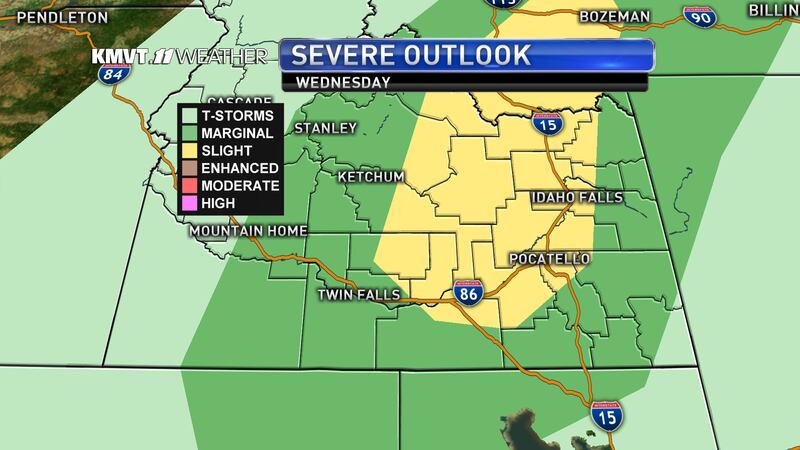 Published: May. 28, 2018 at 11:02 AM MDT
We have seen some severe weather over the last three weeks or so. Severe weather in this area typically comes in the form of hail and damaging winds, and sometimes flooding. Severe weather is again possible on Wednesday afternoon and evening. The SPC (Storm Prediction Center) has us under a "Marginal and slight" risk of severe weather for Wednesday. Severe weather in this area is not as common as the Midwest and other parts of the country, so with that being said, some may wonder what it takes for severe weather to form.
There are a few ingredients in which severe thunderstorms need to form. These ingredients are instability, wind shear, lifting, and moisture. To put these simply, instability basically causes air to accelerate vertically (or rise), which creates thunderstorms. The next one on the list is wind shear, which is a significant increase of wind speed with height or significant change of wind direction with height, or both. Lifting is pretty simple. Lifting is caused by air being forced to rise. The last ingredient is moisture, which mainly refers to the dew point. The higher the dew point, the more moisture is present.
All of those ingredients are the official ingredients, but I would like to add one more. Daytime heating (aka sunny skies) can and does create thunderstorms during the afternoon and evening hours when the atmosphere is unsettled or unstable. With that in mind, Wednesday could be the perfect set up for some severe weather, with sunshine in the morning and the atmosphere unstable. When the atmosphere is unstable and has a combination or all of the ingredients, oftentimes, when we get sunny skies in the morning or early afternoon, that is the perfect set up for severe thunderstorms to develop.
You can have severe weather with any combination of those ingredients, but when all of those ingredients come together, that is when you could get severe weather outbreaks, as is what happens often in the Midwest. While we're not going to have a severe weather outbreak, on Wednesday, we'll have those ingredients in one form or another, giving us a chance for severe weather, with the threats mainly being hail and damaging winds with some of the thunderstorms. A "Marginal" risk means that there will be isolated strong or severe thunderstorms possible, while a "slight" risk means we'll see scattered severe thunderstorms possible. Our viewing area is overlapped with both (see map). It is uncommon for Idaho to see a "Slight" risk for severe weather, so remember to keep your eye to the sky on Wednesday afternoon and evening and have a back up plan in place if you're going to be outdoors.